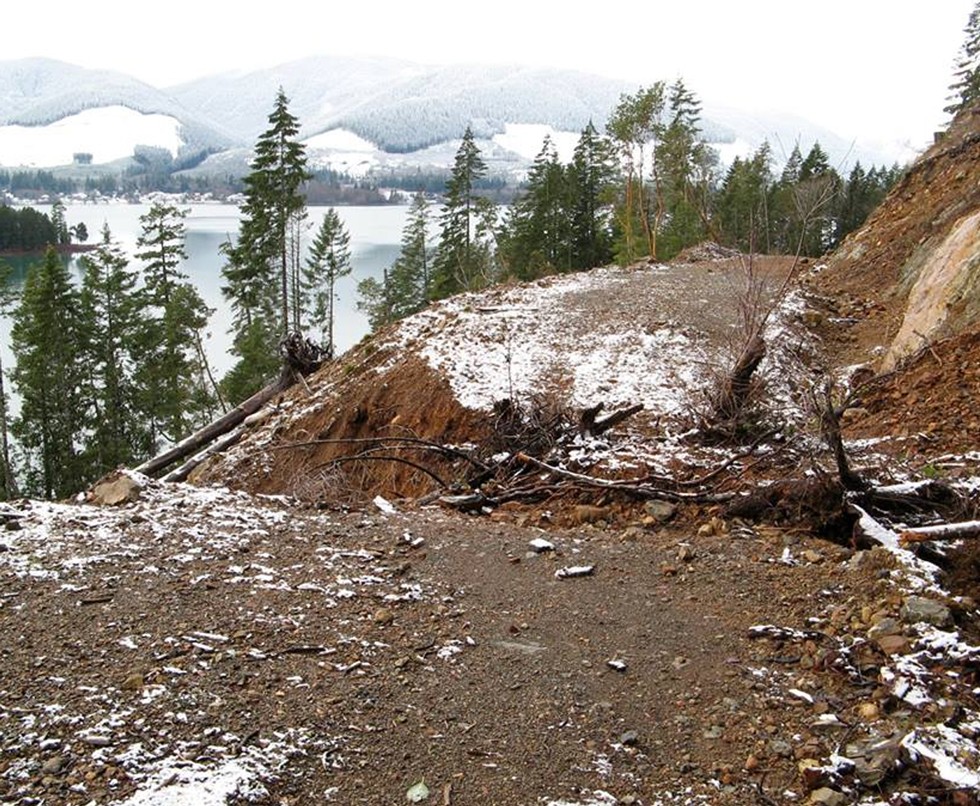 A letter from Dave: How do the trees behind Youbou & Meade Creek protect us?
My wife and I are newbies to Youbou. The other day my wife said that she had met a relative of Christopher Fraser. She finally found out the rest of the story behind the Christopher Rock trail. Christopher Rock was named after Christopher Fraser who was himself, a Youbonian.
I made the mistake of saying to her that I should do some research on internet to see if I could verify the story. Oops…I didn't say that did I? All I remember from that day was "Why do you do that, don't you believe me?" Ok, I could write a paragraph and make a desperate attempt to explain my behaviour that day but I'd rather tell you about another Christopher Rock trail story.
This story begins after someone had sent some pictures to me. I was told that these pictures came from a tourist who was visiting Youbou from France.
The tourist said that he had taken them after trekking up to Christopher Rock. I was shocked when I looked at them. If a picture is worth a thousand words, six pictures were 6000 words. I asked myself, "Did TimberWest clear-cut log Christopher Rock?"
So on May 17th, at the TimberWest open house at the Youbou Community Hall, I showed these pictures to Mr. Iannidinardo, Vice President Sustainability and Chief Forester for TimberWest. I asked him if he knew that TimberWest had clear-cut logged Christopher Rock. I also showed these same pictures to Mauve Maguire who is the assistant to BC Green MLA, Sonia Furstenau for Cowichan Valley. She asked me to send them to her and she would make sure Sonia saw them. This second story ends here.
The next story about Christopher Rock has me talking to myself, "It's about time that you climbed up to Christopher Rock." I called my friend Dan. A tentative plan was put into motion; so on a sunny, temperate May 24th morning, we met near the start of the trail. It was time to hike up the trail. I was carrying a 15 pound back pack with a first aid kit, a towel, three liters of water, two protein bars, binoculars and my camera.
By the way, I am not a morning person. Every page in my daily planner starts at 1 PM. My heart rate began to rise sharply as the trail became really steep. I didn't bring my protractor but my technical experience told me that the angle of inclination was around 55 degrees.
It was one of those days when you never know what or who you'll meet in the forest. These unexpected events can be called coincidence or fate. I heard voices coming from above me on the trail. I looked up and saw Mr. Iannidinardo but I called him by his first name, Domenico, because it was after all in a casual setting in the mountain forest of Mount Holmes. There were three other hikers with Domenico. I recognized Maeve and greeted her with a smile and a friendly hello. Domenico politely introduced me to the other hiker: lo and behold, it's Sonia!
We smile and shake hands. It was the first time that we had an occasion to meet. The last thing Sonia said to me was "we have to meet". Did Sonia want to meet with me because of what she saw from Christopher Rock? I didn't ask her what she saw on Christopher Rock. I told Domenico and Sonia that I was going up to Christopher Rock because I wanted to verify whether the pictures from the French tourist were in fact depicting Christopher Rock.
They didn't say a word to me about whether or not the tourist's pictures were taken at Christopher Rock. Now I was more than determined to get to the top even if I had to crawl on my hands and knees. There were a few choke points climbing up the trail that you actually had to do that. These spots had an angle of inclination that was about 55 to 60 degrees. So Dan and I finally got to Christopher Rock and what did we see and what did Sonia and Domenico see?
Before I answer that question, do you remember at the beginning of this story when I got into trouble with my wife for saying that I should verify the individual's story of how Christopher Rock got its name? Well I was about to get into trouble again for not verifying the source of the French tourist's photographs. I can honestly say "I am damned if I do and I am damned if I don't!"
Conclusions: 
TimberWest, I owe you an apology and more specifically, I apologise to Domenico for accusing him and his people for clear-cut logging Christopher Rock when they did not! TimberWest has lived up to its word that they would protect Christopher Rock as a community value.
I got the email address of the French tourist from the person who had forwarded those pictures to me. On the same day after I came down from Christopher Rock, I typed an email with the statement that the pictures which he sent to my contact were not from Christopher Rock. I asked the question: "What trail around Youbou were these photographs taken?" I got a reply from France the next day. He wrote, "Bald Mountain".
Now Bald Mountain is another story to be told but I will make sure that I get my facts verified before I tell you about Bald Mountain. Stay tuned for that one.
My next comment is directed to Sonia. When I met you on the Christopher Rock trail, you gained my respect because I said to myself, "How many politicians would have taken the time and energy to take an arduous hike up a mountain side to see for herself to verify a story that TimberWest had clear-cut logged Christopher Rock?"
It showed to me that you cared about what Youbou's residents value and want to protect. It also showed to me that you wanted to make sure that TimberWest was accountable for keeping their word. You had seen, though, the devastating effect of TimberWest's clear-cut logging of the mountain forest across Cowichan Lake from Christopher Rock.
All of us make mistakes. Some mistakes are more visible than others. When some people make a mistake, it only affects themselves and maybe a few other people. There are some mistakes which affect those close to the person or group of people and others that reach out to an innumerable amount of people. These kinds of mistakes unfortunately take generations to fix, if ever. One thing that I have learned over my professional career of 31 years is that you cannot hide a mistake forever.
Several TimberWest employees were asked by many Youbou residents attending their open house about the huge area of trees that were cut down and removed from the mountain forest across the lake. The common answer that they got was " it was a mistake".
What effect do TimberWest's mistakes have on our watersheds that cause water flow disruptions, debris flow contamination and turbidity? What effect do TimberWest's mistakes have on winter storm rain runoff that cause flooding? What effect do TimberWest's mistakes have on our mountain soil stability that cause landslides? What effect do TimberWest's mistakes have on the natural habitats of the Roosevelt Elk and all the other wild animals, birds, amphibians and plants and cause the destruction of the forest ecosystem?
TimberWest, these are more reasons why the residents of Youbou and Meade Creek do not want any logging of the trees on Mount Holmes and Mount Good that are behind our homes.