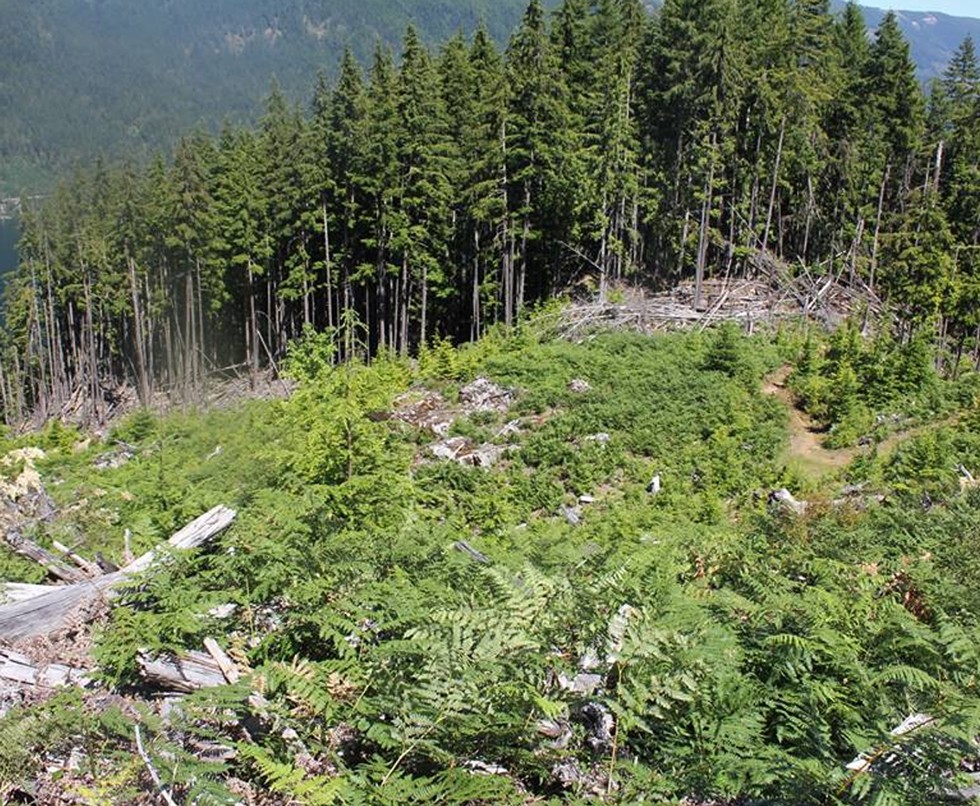 How do the trees behind Youbou & Meade Creek protect us?
My wife, our mini Dachshund ( wiener dog ) and I landed in Youbou on February 1, 2017. In August, after we spent about six months getting our house and property in order, I do remember seeing a roadside sign with the words, "SAVE OUR HOLMES". I thought that it was one of those quirky slogans that make you remember the advertisement by misspelling a word. It certainly got my attention!
I eventually found out that a logging company called, TimberWest was planning clearcut logging on the mountain forest behind Youbou. That mountain was called, Mount Holmes. 'Voila' or 'Eureka'! "SAVE OUR HOLMES" means save Mount Holmes' forest. I know that I wasn't the only one who didn't know that.
It all made sense to me when someone said that we don't want any logging behind Youbou. I'm the type of person who prefers closed ended questions like, "Do you want Mount Holmes to be logged ? Closed questions can be answered by a simple yes or no. After I say what I have to say, I'll answer that question at the end.
Over the course of time, I began to understand that saying no to logging the mountain forest wasn't simply an emotional outcry! I spoke to residents from both Youbou and Meade Creek communities and I heard many stories of anecdotal evidence that were based on personal observations and experience. People have seen how clear-cut logging has caused landslides, flooding and destruction of watersheds
In my personal investigations, I saw enough nearby evidence that supported their stories.
There were historical records of landslides and flooding in local newspapers which validated their stories. With my science background, something at the back of my mind kept begging the question, where is the scientific evidence? I am a retired professional with a career that had spanned over 31 years with a large American science based company in Canada. I've worked with scientists such as physicists, chemists, biologists and microbiologists which all play a role in the broad subject of environmental science. I've also worked with mathematicians and engineers of different disciples: mechanical, electrical and chemical so you can see why, scientific evidence makes me tick.
Here's another closed question. Do I know everything? That is an easy answer. I'll answer that now: no. However, if you provide me with a scientific paper, I would feel comfortable with reading it. I've personally done many experiments and studies. I have also been involved in many experiments and studies done by other scientists and engineers. I have been trained to follow the scientist's or engineer's hypothesis, observations, analyses all the way to the conclusion or conclusions of the investigation.
Modeling and simulation computer programs used by scientists and engineers are not always accurate predictors of physical behaviours in the real world. Identifying errors, as well as uncertainty in modelling and in computational simulation requires more reliance on risk assessment factors which is why modelling and simulation methods would not be my choice of making decisions on the probability of whether a landslide and or flooding would occur on Mount Holmes and Mount Good after clearcut logging the mountain forest on each of them.
I would hope that the several critical variables would be definitely used in the Hydrologist's choice of model. Of course the best model is the one which will give results as close to Youbou and Meade Creek reality. Whatever the best model is chosen, it should have a 'F' variable which is equal to the friction of the rain water against the forest floor (ground) without trees. The other critical variable would be 'Y' which is equal to the slope between 45 to 55 degrees. Another critical variable would be 'Z' which is equal to the total rainfall for Youbou and Meade Creek's rainforest season. The model would not be accurate without the variables 'S' which is the type of soil on Mount Holmes and Mount Good. If the model is going to calculate water runoff that could cause flooding and landslides, it had better determine the predicted water runoff without trees. Water runoff with trees is what we want which means no logging the forest of Mount Holmes and Mount Good!
Conclusion:
TimberWest, we haven't read any scientific papers from you that proves without a doubt that clearcut logging the mountain forest behind Youbou and Meade Creek will not result in landslides, flooding and destruction of our watersheds.
TimberWest, where is your scientific proof that clear-cut logging the mountains behind Youbou and Meade Creek will not in any way damage our homes and property or endanger the personal health and safety of residents who live on or below these mountains?
For those reasons, we do not want any logging done in the forest of Mount Holmes and Mount Good behind the communities of Youbou and Meade Creek.