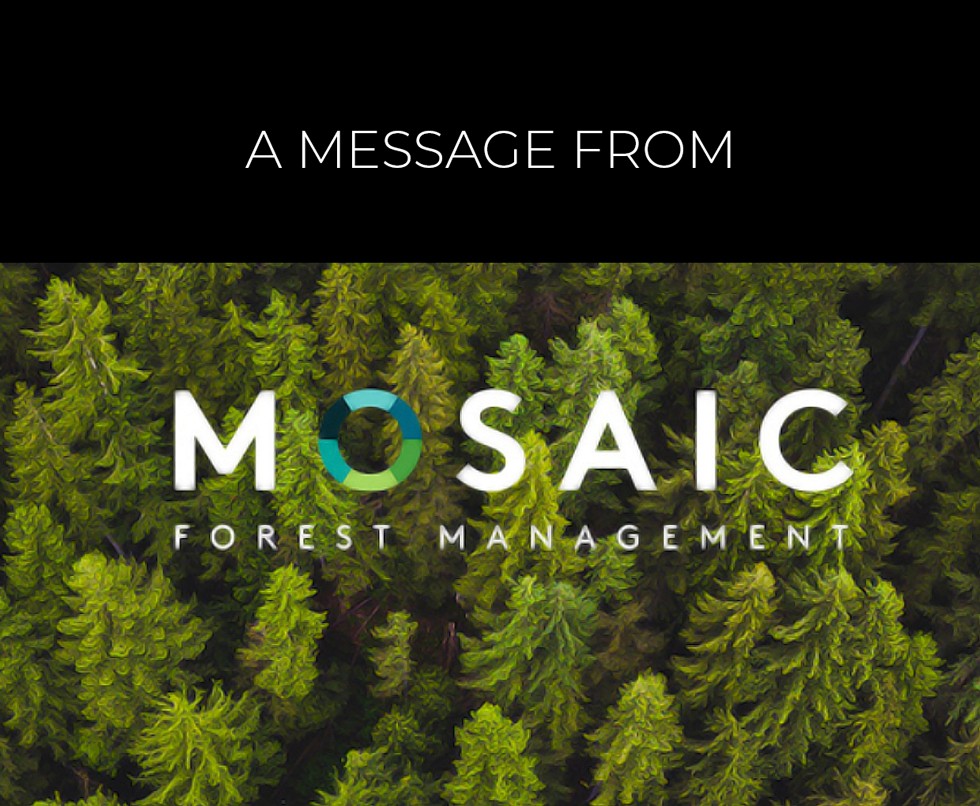 For those of you who don't belong to the Youbou Community Association, this message from Mosaic Forestry was in the YCA newsletter. Sorry if some information is missing, I captured what I could:
MOSAIC 2022 UPDATE
By Pam Jorgenson, RPF, Land Use Forester
Pam.Jorgenson@MosaicForests.com
Mosaic wishes to address some climate change concerns and to provide you with an update on our activities in your community.
EXTREME WEATHER EVENTS: Mosaic has retained a climate-science graduate student to work on projects related to climate and weather conditions on Vancouver Island. His review of our detailed weather station data has indicated that the November 13-15th storm resulted in over 200 mm of rain in the Cowichan area in a 24-hour period. This rain, as well as the significant snowpack for the time of year, translated into river flows that peaked at conditions that would only be seen once in 100 years. These conditions occurred as a result of the back-to-back atmospheric rivers experienced on Southern Vancouver Island, coupled with very wet pre-existing conditions. When conditions are already so saturated, storms overwhelm a natural systems' ability to limit overland flows, and much of the precipitation enters streams, rivers and lakes, regardless of land use.
ADAPTING TO CLIMATE CHANGE: Scientists indicate these types of storms will become more frequent with climate change. In response, Mosaic has been adapting, and continues to adapt, our management practices.
Some specific examples include installing bridges and culverts that anticipate more intense future rain events. For Youbou, the recent studies looking at slope stability and torrent flows modelled 68,000 iterations of surficial landslides and runouts. This detailed research concluded that in almost all scenarios, there was no risk to residential properties. Future land use or climate change impacts were not indicated to impact landslides and runouts beyond the modelled weather events. To read the research in more detail, please go to the CVRD web site.
UPCOMING ACTIVITY: As indicated in the fall, Mosaic commenced road building on a short stretch of road starting from Meade Creek Main. Activity has been periodic due to weather and crew availability, so our progress has been slower than anticipated. Our winter plan is to proceed west toward, but not crossing, Denham Creek. We anticipate other activities this winter to include road reconstruction at Block D, just east of Miracle Way, on the high side of Youbou Road. This is minor work to brush out and improve the existing road. Harvesting of this area will not take place until 2023. The area beyond Youbou near the old truck wash could have works commencing in the first few months of 2022, but this is pending a variety of factors, including crew availability.
OUTREACH MATERIALS: We will continue to share information about our upcoming plans. If you are new to the community and would like to receive our "Youbou Activity Update" that we mailed out this past summer, please reach out to me via the contact info above.
Mosaic wishes you a safe and happy new year and will reach out with further updates as warranted. In the mean time, please feel free to reach out to me via email (see top of message)